Sylvia Benton
The last interview of eminent British Archaeologist Sylvia Benton for Ithacas excavation from 1927 to 1960!
In June 1972 the British archaeologist Silvia Benton sent to the journalist St.Papadopoulos the following h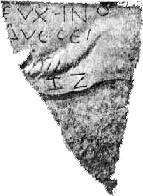 ellenic language letter, in response to the questions of the research for the Ithaca, published in the journal "Free World".
THE CURRENT ITHACA CANNOT BE ANOTHER THAN ULYSSES ITHACA…
Homer wrote that Odysseus hide 13 tripods from brass in a cave near the sea. I am a lying cave of port of the POLIS project Knuckle, which is next to the Sea found tracks from 12 Tripods. This port must be "Forkis Bay".
In the same place i found an inscription "Ulysses Bendlam" and the museum of Stavros is full of Mycenaean vessels in Ulysses time. The cave (Loizos cave as they say in Ithaca) cannot be the "Cave of larvae" as described by Homer. In the Lefkada The Dolpferd found little form Ullysses time (1300bc) the great majority of these findings was the 2000bc and before, while not found nothing of the time of Homer (800-700BC) The Museum of Vathi of Ithaca has a thousand vessels from two temples discovered in the Ai Giorgis in Aetos, of Apollo and Artemis and dating back to the 1100-900E.G. Several of the vessels in the museums of Ithaca is the era of the colonization of the korinthians and dedications of travellers passing Ithaca split in Italian beach and wanted to commemorate the large salt Odysseus and to request the favored by the king of Ithaca, which was grappling with double the monsters of the wild seas."
Archaeological research in the partially immersed Loizos cave on the beach of the POLIS project" of Stavros. Top seated the British archaeologist Silvia Benton monitor workers, through the sea, which almost has swept through the cave looking to find findings. 
Source: www.ithacanews.gr