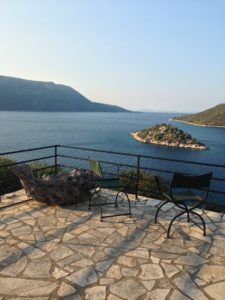 Surrounded by greenery, our Windmill is steep, Calabri located above the Dexa beach or for others Forkis Bay.
It is said that here the Phaeacians left Odysseus. This soil caught and said "Nostimon Imar" means "Beautiful Day". Admire the point where history and legend become one, seeing the wrath of Poseidon that petrified their boat at the moment of departure.
Skartsoumponisi island stands proudly over the centuries, benchmark infidelity of mortals.
Allow your senses to travel, as the coasts of Main Land, Lefkada and Atokos islands.
Our Windmill is just 1.5 km from the Vathi the capital, about 2 km from the port of Piso Aetos and few minutes drive from the famous beach of Agios Ioannis.