The collection includes more than 1,500 exhibits, including old photographs, shipboards of Ithaca shipowners, naval instruments, uniforms, documents and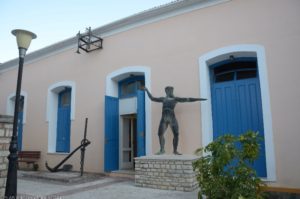 books of the Stathatos School of Commerce, household utensils, jewelery, old tools, objects of various professions, bourgeois furniture Small items of ecclesiastical art, traditional costumes of Ithaca and equipment and constructions of textile and textile art, agricultural equipment, weaving tools, ecclesiastical items, and Stamps, stamps, musical instruments, etc. It is housed in the building of the former Electric Power Station, which was constructed in November 1923. It used three electric machines and supplied electricity to Vathy and Perachori until 1967, except in 1941-1945 The foreign conquerors discontinued its operation.
Opening hours of the museum: Until 30 June 09.00 – 13.00 (except Sundays and Mondays). July & August 09.30 – 13.30 (except Mondays).