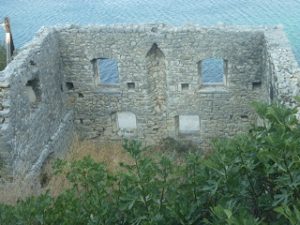 The Georgios Karaiskakis IN KEFALONIA AND ITHACA (OCTOBER-DECEMBER 1823)
The revolutionary action entirely Georgios Karaiskakis during the fight of Greek Independence and our National Restoration, the period 1822 to 1824 constitutes, in our opinion, an eminently important and very interesting historical period. initially integrated and very young to Ali Pasha of Ioannina service in war-military school which took the first, in this regard, lessons, went after his death, as a thief in the Agrafa region and took active part in the battle in Kompoti, where he was wounded, and even in the battle of Saint Vlassis, in Sovolakou in February 1823 region fighting successfully Vryonis and powerful Turkish forces, and preventing, during the dismantling of the siege of Missolonghi, to beyond if Achelous and across Agrafon reach Larissa, when "was transferred aftocheirotonitos captain" and attorney dominant Agrafa.
Since then gradually began to develop and unfold his revolutionary activities with their peak the commander of Central Greece, when he demonstrated the great and incomparable, for the Revolution data recorded from all sources, genius strategy.This presumption an especially conceived therefrom and carrying out its strategic plan which was intended to cleavage of Kioutachis forces besieging Citadel Athens, the possibility of filling in war supplies, and foodstuffs from Thessaly and Evia, transforming from the besieger and besieged in rekindling the revolution in East Central with victorious battles against the Turks and elsewhere, but above all in Distomo and Delphi.
In the revolutionary years when a simple kleftarmatolos emerged and established itself Generalissimo, the G. Karaiskakis kneaded, was created and matured in the fire of national liberation struggle and in these years "the character and craft were formed" and "by the gradual effects of the revolution midst thereof and therewith synifxisan and synetelesthisan "in order to may 'be thought of creation, and more precisely that apeikonima'. Admitted by sources and younger who worked with her husband as "the gnisioteron son of the Greek Revolution" and "gnisioteron product", the "terror of the Turks and the eternal pride of Greece " the epikotera and rather charmed the imaginary character among contemporaries of the masters of sacred struggle "and" Achilles of Romiosyni ".
Georgios Karaiskakis, being master of Agrafa, in May 1823 found that he was suffering from tuberculosis and that the biographers confession "ypepesen in astheneian troubled and mortal … '. Because it "had been prevailed ably the newfound this passion breast" and "chronic disease of capable inagkazon breaks him to serves bedridden", has decided to be interested in the restoration of health, the terrible shock of which was insurmountable obstacle of revolutionary activities , the more so because almost inertia which had fallen from his illness catalytically reducing effect and the whole psyche. Confessed that "so broth al my forces All of apenekrothisan and dare words that pneo the last legs" and "in virtue of what state is in principal only oiden '. Nevertheless, and although he was, as confessed in desperation from his illness cease not also confesses "than I do that the debt which requires Christianity" without regard to the charges against him and striving to open treatment passage from impasse in which he was. Urgent so I find quick ways of treatment. Originally thought to approach doctors at Larissa or Trikala, but considered that these cities were mortal enemies, which would frustrate any attempt of there doctors to reach Blank to consider, while, on 'the other hand, considered that the these same doctors were afraid to visit him. In his confession "in despair and became" rushed to his friend "best man" and "brother" of "Sior Fokas" in the village of Kioni Ithaca, asking him to inform him if he could go to the island to treat, staying in it a few days, and how he would go there, after examining about and "kouverno" and "everything" in the event that it was impossible to go to Ithaca 'and is destined to give the common charge of my life unjustly "asking him to find" experienced physicians' to send him and, although "this or if impossible "begged" hearing the description of my illness and send me those medically necessary, they belong to my astheneian and treat myself. "
Clearly, from what followed, seems that Kara got positive response from the "Sior Fokas Paisiou" who also informed him that the transition to Ithaca is possible for a few days, so and then decided to go to the island to visited experienced doctor to determine treatment for his illness, the more the "had been prevail in this newfound passion. First stop after leaving the Agrafa to Cephalonia and Ithaca was the Monastery of Panagia Proussiotissa where, during the relevant evidence, hosted between August and September 1823. In the monastery reached Karaiskakis during the relevant testimony "severe ill and pull in xylokrevato ". Having not stayed in it a few weeks, finally left for Ithaca to consult an experienced physician about his illness. The beginnings of the island would begin from the west coast Akarnanika, which seems to have reached around mid-October 1823 and which would be directed to Ithaca. Currently, when relevant evidence had established as a key destination and the village Kioni was the "best man" and "brother" of "Sior Fokas Paisiou". Before we begin to Ithaca and while Agrafa transferred "from palikaria of" a stretcher, when they reached the Arcanian mountains, where he spent the night, faced with a Turkish caravan success came from Arta direction Missolonghi, which had camped a short distance from them. The day after the victorious this conflict of Karaiskaki soldiers with the soldiers of the Turkish caravan, they, most secure, took him to the small port Karaiskaki Kandila they began to Ithaca.
The boat carrying the initially approached the small island Kalamos which administratively belonged to the British held Ithaca and where Karaiskakis had installed his family to safety. But the British authorities in Kalamos was not allowed to disembark, referred him not to Ithaca, where, however, and the British authorities there again was not allowed to disembark and referred him to the British authorities in Argostoli. In Ithaca, the boat carrying approached Kioni where lived "the best man" and "brother" of "Sior Fokas" in which it appears that he met and who gave ingredients letters to his friends in Argostoli with inviting to serve him. From Kioni Ithaca, the boat with the Karaiskaki departed for Argostoli, where he arrived on October 22, 1823 when "by suspicion of swine" entered the Lazaretto Quarantine-city for review and clearance. From there Karaiskakis immediately wrote to "Sior Fokas' disclosing that his friends welcomed him" as they wrote, "at the same time thanking him for" the ypertatin Dioikisin and here benefactor and my friend "and asking him to" toil "in Argostoli and "to stand a couple of days."
The presence of Karaiskaki Argostoli and entering the Lazaretto informed and Al. Bearer of a letter to him of Praidi who then was at Argostoli to meet Lord Byron to serve invitation letter Hydra.

Argostoli Karaiskakis stayed about two months and according to me today to inquiries developed the following activities and events:
a)Visited experienced doctors to examine him and determine the need for his illness, tuberculosis, treatment. Who visited doctors were unable so far to point out nor the relevant therapeutic advice and instructions given to him. We believe that we got instructions general from "Sior Fokas' when approached to Kioni, which appears to have been a doctor, as well as doctors in Argostoli he suggested the" best man "of and by German Julius Millingen, who was a doctor associated with and together they started from Argostoli to Solids, and who in his book provides valuable information on the purposes, designs, character and personality of Karaiskaki. When relevant testimony doctors who examined him found his passion incurable and advised him to give up his life as he did, to withdraw from all and "rachaitepsei". Another witness records that "doctors, on th edokimasan passion, did not they gave hope of life, he does not endure in the isles dissertation and s nature restless, went back to Mesolongion and he sought to distinguish the leader of the province Agrafon weapons" . Tuesday testimony notes that "in Ithaca doctors exetasantes passion of a man few apparently they gave him hope life.

But he or nonbeliever very In such Asklepiads of predictions or non sufferer the closure, lowered afthis, upon person undertaking AS Taq forces, wherein the step
b) Visited in the abode of Argostoli and 'tais fameliais Stornaris "which, leaving their katadiogmous their opponent Rangou fled to Kefalonia for safety, and which then involved in the rivalry and confrontation of two political and social actors of the British held Kefalonia, the then prefect P. Karydis and Council member and friend Alex. Mavrokordatou, Rep. Delladetsima. Karaiskakis, arriving home in which 'Famelis Stornaris' were restricted, and with guards at the door by Rep. Delladetsima, probably, to please his friend Alex. Mavrokordatos who was unlike Stornaraious-, learned from them the dire situation in which they had fallen, following a meeting with Rep. Delladetsima strongly complained to him about the difficult position in which he condemned "tais fameliais" and threatened terminate it in English on the island authorities for improper and indecent behavior. The Rep. Delladetsimas seems frightened by the intense Karaiskakis protest, tried to win and eventually the promised "from spiti pull hand" against the friendship. During his visit "stais fameliais Stornaris" Karaiskakis learned further that they were in an unfavorable economic situation and have asked him and obtained for their relief loan amounted to 6,000 piasters.
c) 

Met by relevant evidence with Notis Botsari who had arrived on the island to serve in Byron who dietrive in this letter of Administration of Western Greece, by A.. Mavrokordatos, which invite you to go to Missolonghi. In the same testimony, the two men, Notis Botsaris and G. Karaiskakis, in their meeting with Byron, their last confessed, even in Mpotsari, he wants to "Ida body all Souli united and then to him be sure that by as time wages wants the promise given by him. " And the two men also Byron was informed "and learned what force can be evgi from Dytikin including Greece Agrafa and Aspropotamos and whether monthly is enough for each soldier, and the like … '. –
d)Karaiskakis during his stay in Argostoli hostility and hatred of his opponents, even the Rangou, who with the support of A. Mavrokordatou achieved its dominance in the Blank, winning the Karaiskaki and simultaneously pursued apinos those diekeinto friendly in Karaiskaki. Then, when Kara was still on treatment in Argostoli 'good patriots they sent a letter to the English rule of Kefalonia pretending as dangerous villain and asking that the prison. " Then indeed also Karaiskakis, indignant, decided to interrupt his stay in Kefalonia urgently reach as quickly Missolonghi to assert his rights in the area of Agrafa and avenge his opponents.
 From Argostoli Karaiskakis in the company and Millingen doctor began to Missolonghi on December 8, 1823, at the doctor's testimony, attempting this trip without figuring the dangerously poor health and the risk of being exposed to such a long and arduous journey in the heart of winter epeigomenos reach the fastest in Missolonghi to avenge his opponent Ragusa, who dominated with the help of Mavrokordatou Agrafa, which he considered "lawful conquest", but the government itself, in which overflows the fury of the unjustified ousting him. Traveling Karaiskakis with the doctor to Messolongi, forced the ship carrying them, aground on Kefalonian town of Agia Effimia, weather he found them, and which temporarily allowed them to continue their journey before it subsided. In Agia Effimia the ship remained a day, probably on December 9th 1823. During their trip from Argostoli and the one-day stay in Agia Effimia, always developed in Millingen testimony of a sincere friendship. Then Karaiskakis unfolded in Millingen the genuine and true human self and the problems that preoccupied him.

At the talks the two men Karaiskakis unabashedly and genuinely expressed the animosity toward the raga and Management Forum. Greece – Mafrokordato- and to the extent that, again according to the doctor's testimony, Karaiskakis in the expression of this anim
With the decline in bad weather, probably on December 10, their ship departed from Ag. Efimia direction opposite the west coast of Ithaca where he anchored in Eagle location, at the foot of a mountain. A woman in service to Karaiskaki nursed him in his illness, only the ship anchored in Ithaca coast, stretched out on the shingle coastline a rough mat. A quickly prepared a snack, while two other "porters" women who arrived purposely carry luggage. The eagle, the Kara, the Millingen and their companions went to a wooded dense higher ones, saw f the left the ruins of the ancient town of Ulysses and then the two men were separated by informing the Karaiskaki in Millingen that it would continue the journey in Missolonghi, but would stay in Ithaca for a few weeks, probably in Kioni where the "brother" and "best man" and which would reach the island Kalamos members of his family. Eventually, Kara returned Missolonghi from his trip to Kefalonia and Ithaca in late 1823 at the beginning of 1824.
Then faced hostility and hatred of Al. Mavrokordatou, who accused him, then, for alleged collaboration with the Turks to regain t 'Blank, resulting in introducing trial by a committee composed of his confidants "as guilty of high treason" and ordered «as treacherous and traitor to homeland with deprivation of all ranks and offices of. " Later G. Karaiskakis, at the Alexis. Mavrokordatos traitor, was declared by the government Zaimi commander of Central Greece. Rekindled the revolution there.
Create Eleusis camp, only for the duration of our National Rehabilitation struggle in discipline and capacity. He tried to turn Kioutachis besieger from the Acropolis of Athens in besieged cutting off the supply of military supplies in men and foods from Thessaly and Evia. He strained to thwart the ambitions of the then British policy, which aimed at creating very weak Greek state only in the Peloponnese and the Cyclades and non mainland Greece. And mortally wounded on April 23, 1827 in Law. Faliro – Castella, finally succumbed to death, who was considered by many and considered as killing. Selectively conclusions A first ambiguous, in our opinion, dial conclusion and a first historical objective finding extracted from the relevant evidence relating to the C personality.
Karaiskaki and, in this regard, during the two months around stay in Kefalonia and Ithaca (CR-December 1823), and especially during the one-day stay in Agia Effimia, accompanied by the doctor Millingen are: remote from the machinations and intrigues of deadly rivals to top the Rangoon Mr. century Al. Mavrokordatos showed that it was, by then, and remained until his death "in a unique dimensions legitimate child and product – illustration of the revolutionary Greek people.
Despite the dangerous health of martial hardships and his illness, overcoming whatever those obstacles inserted, presented in Kefalonia and Ithaka real, "popular" himself as a genuine child of the Greek people and the revolution, simple , unpretentious, honest and unfeigned, in the country and acute spirit, according to the testimonies and Millingen, outspoken, narcissist, with rich decorations and floats, proud of his ancestry, which he confessed with jokes "like some ium large office. " After all the testimony of Millingen, from his correspondence with the "brother" and "best man" of "Sior Fokas" Kioni Ithaca and its activities in Argostoli recorded Karaiskakis a lay leader, a patriot with a vision to Lefteris the homeland overcoming slander and trials and convictions, to which will always gratefully turning the thought and the calculus of the Greek Nation, drawing from it strength for sustainable continuation of the historical course.
Source: Dr. Spyros Loukatos / www.ithacanews.gr